Find us at Dominion Valley shops (off James Madison Hwy; route 15) next to Giant and subway.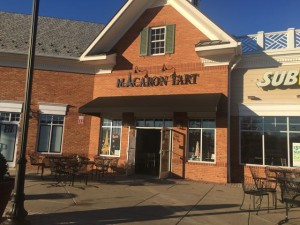 Macaron Tart, Inc.
5471 Merchants View Sq, Haymarket, VA 20169
571-248-0579   There is no voice mail. Please call during business hours to place all orders. 
Facebook.com/macarontart 
La Patisserie Hours:
Monday: 8:00am-6:00pm
Tuesday: 8:00am-6:00pm
Wednesday: 8:00am-6:00pm
Thursday: 8:00am-6:00pm
Friday: 8:00am-6:30pm
Saturday: 8:00am-4:00pm
Sunday: 900am-4:00pm

Macaron Tart is a small business run by owner Elena Hocking, if business is very quiet we may close 30 mins early on mondays
Macaron Tart Mission Statement:                                                                                                                                                                                     Is recognized as providing a natural and French experience through our product and service offering; by being surrounding areas biggest supplier of beautiful tarts for celebration needs, and best pastry classes in the area.

MEET ELENA, FOUNDER OF MACARON TART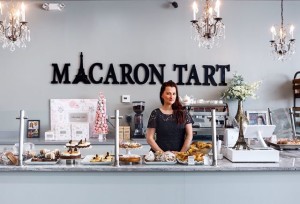 Why choose us: Macaron Tart makes its products from scratch, most bakeries don't. We use all natrual ingredients, and all products are made in the kitchen. Most of everything sold by Macaron Tart is made in the kitchen by a pastry chef such as all the doughs, ganaches, creams, jams, tarts, macarons and fillings, quiches, chicken salad is made on the premises, as are the soups, lasagnas and all breakfast items such as croissants are made fresh, and eggs and bacon, crepes are made as you order them and from scratch fresh. Real butter, natrual flour and sugars and real fruit are used. You may think all bakeries provide this made from scratch but many of them dont they use cake mixes, pre-made jams, ganaches, dough are already purchased, fruit is canned. We provide quality natrual products. Our coffee is espresso quality fair trade and is locally roasted. The beans have bean selected by the owner to make a unique "Macaron Tart European blend".

How it came about: Australian raised, as a young girl i appreciated our weekly market trips to pastry shops and fresh produce vendors and have made all natrual from scratch important element of the business.  Providing healthy dessert options with a french flare is what Macaron Tart is about. Trained in commercial cookery, and patisserie; and has a marketing undergraduate degree; Elena appreciated being trained by Stephane Glacier who got a prestigious title they give to one selected winner every 4 years (he was M.O.F 2000); he's specialty was the Macaron Tart, where macarons are placed on a fine almond tart. "I went to Paris, France and did a short course with Mr. Glacier and trained with him at the French Pastry School as well." My trip to Paris gave me that clarity i was looking for- that i can do it…why not. The shops in Paris are beautiful..simple in their design but touches of elegance and chic femininity… colors were modern, cold and set the tone for the products to come to life. Natural greys, greens, aqua, pinks and peaches were being paired with touches of pinks, black and purple colors. Music was French and feminine and modern pop…French lifestyle is sit down enjoy breakfast type foods all day …coffee was espresso and wonderful… and pastries were …exceptional, natural made from scratch by trained professionals. Treating yourself to elegant pastries with tea with a friend was the past time...Yes when i got back i decided i too wanted to provide this experience to the locals, so Macaron Tart was born in November 2015, A place locals can come and enjoy pastries, high tea, pastry cooking classes, and quality espresso coffee, and enjoy a breakfast brunch all day… where they can visit Paris... that this lifestyle experience in a pastry shop was quite innovative. Paris gave that to me.. my confidence, that i in fact can do it.. why not :). Following your passion where your heart and instinct drives you to bring something you enjoy to be of service in the field where i can express my creative side makes me happy and is a blessing.